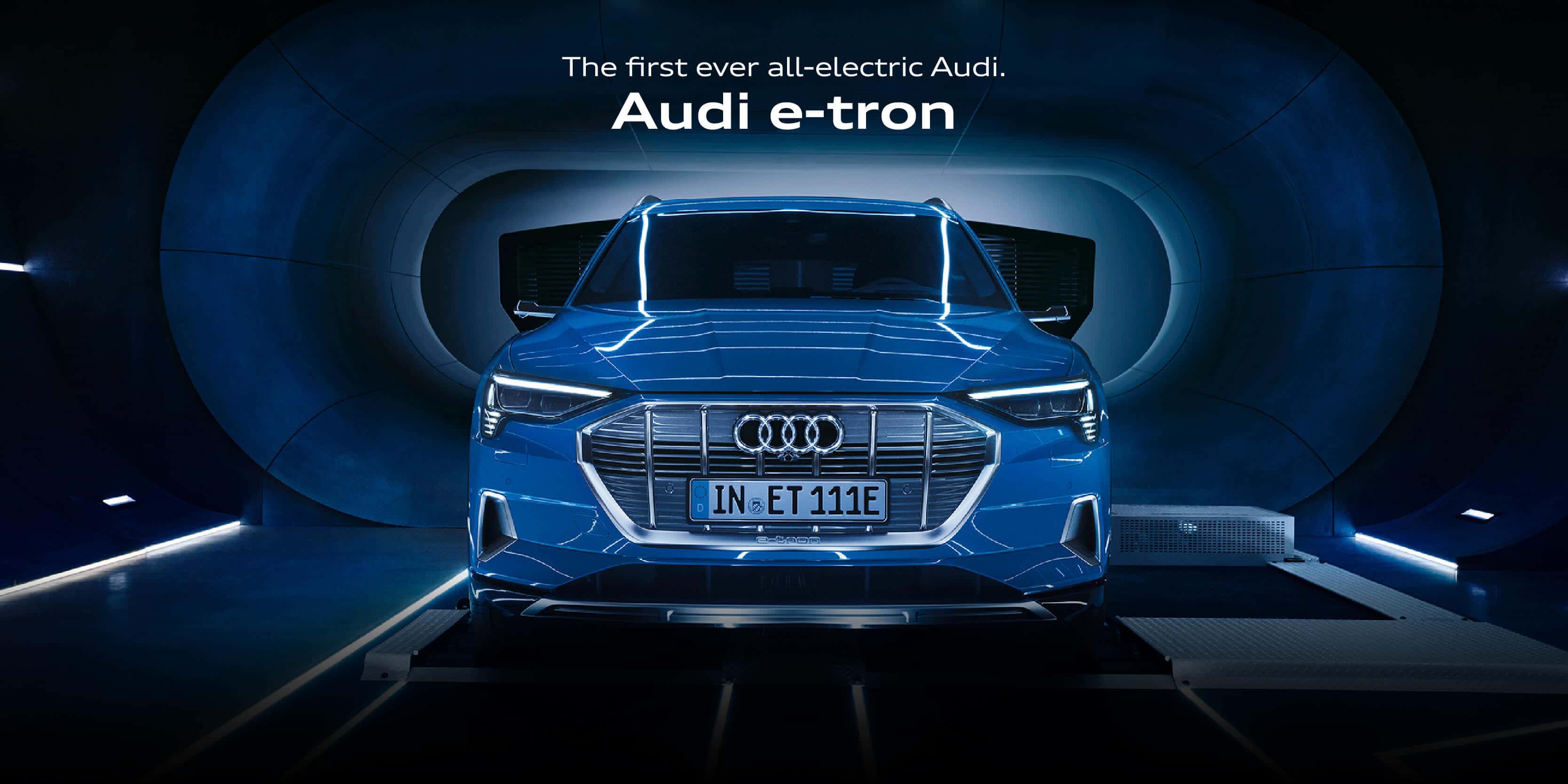 Electrifyingly fun to drive.
All electric. All Audi.
With its combination of electric drive and a comfortable, sophisticated interior, the Audi e-tron creates a new sense of mobility. Whether parking, in the city or on long journeys, the Audi e-tron makes life easier for its driver in many situations. The full-size SUV combines sportiness and everyday practicality. Its two electric motors together with electric all-wheel drive provide for awesome performance and agile handling. The large high-voltage battery is the foundation for a sufficient range. In combination with a comprehensive range of charging options for home and on the move, you can enjoy fully electric driving without having to compromise.
The first ever all-electric Audi.
Introducing our first ever, all-electric car: the new Audi e-tron. Everything you'd expect of an Audi, powered entirely by electricity. With its stunning, aerodynamic body and elegant, luxurious cabin, the Audi e-tron certainly has a unique presence. Driven entirely by two electric motors that produce up to 300kW (or 408PS) of power harnessed by quattro all-wheel-drive, it heralds a new era. Not just for those seeking the benefits of electric mobility, but for everyone who demands the driving experience of an Audi.
Exclusive off-road look
There are twelve colors to choose from for the Audi e-tron, including the exclusive option of Antigua blue. The e-tron logo on the electric charging flap and optionally the brake calipers stand out in the high-voltage signal color orange. The wheel arch trims and sills are in a contrasting color, to emphasize the off-road look.
Electrifying design.
It begins with a streamlined body that not only gives the Audi e-tron a dramatic appearance; flowing contours, aided by optional virtual wing mirrors, lend it exceptional aerodynamics that promote efficiency and an almost silent drive. And, while the octagonal grille clearly marks it as an Audi SUV, special e-tron details, such as a unique light signature, ensures it stands apart.
Step inside and you'll see that the e-tron's modern, uncluttered design accentuates the cabin's spaciousness. Unlike conventional models, there's no centre tunnel that impedes space. Customisable virtual cockpit, discrete touch-screens with haptic feedback, voice-command controls and an unobtrusive centre console allow for a clear, expansive dashboard. Finished with first-class materials and with almost total noise insulation, the experience for up to 5 passengers is one of supreme comfort and luxury.